The subject "Media and Information Technology" in Curriculum 21 enables information technology to enter the Swiss education system. Realizing this opportunity in practice is proving to be extremely difficult. For example, several teacher training colleges have few trained computer scientists, and some do not have a single specialist. As a result, the proportion of computer science in the training and continuing education of teachers does not correspond to the proportion that is actually necessary. In addition, computer science instruction is reduced to the presentation of facts. Finally, this factological teaching is supplemented by touches of computer science concepts only on the surface.
Under the motto "Let's educate the inventors of information technology, not just its consumers!", the University of Teacher Education Graubünden (PHGR), in cooperation with the ETH Zurich, offers the first course of study CAS "Computer Science and Computer Science Didactics" for teachers of compulsory education. Closing the gap in continuing education, teaching subject-specific didactic competencies and anchoring computer science as a MINT subject in schools form the intended goal.
The CAS program "Computer Science and Computer Science Didactics" starts this school year! We talk to Dr. Gian-Paolo Curcio, Rector of the PH Graubünden, and to the head of this study program Dr. Dennis Komm. Some students talk about their impressions regarding this new study program, about their motivation and expectations.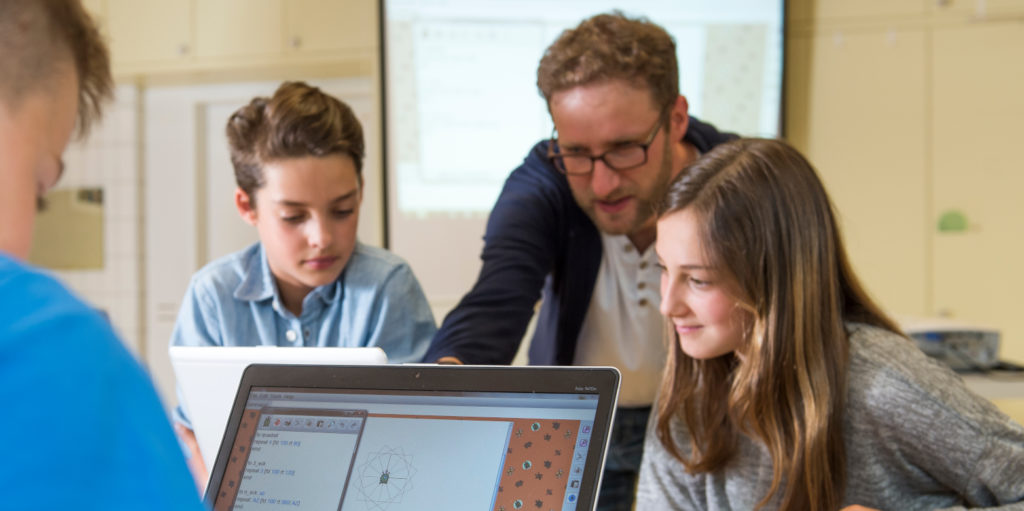 I
Interview with Dr. Gian-Paolo Curcio, Rector of the University of Teacher Education Graubünden (PHGR).
Elke Bülow: What are the objectives and expectations of this CAS program?
Dr. Gian-Paolo Curcio, Rector of the University of Teacher Education Graubünden (PHGR): In almost all professions and fields of activity of the future, basic IT skills will increasingly be a natural part of the application profile. The Curriculum 21 and the subject Media and Computer Science are a response to this development. Accordingly, computer science is taught in all three cycles of elementary school.
In the CAS course "Computer Science and Computer Science Didactics", which is offered as a cooperation between the PH Graubünden and the ETH Zurich, the Curriculum 21 competencies of computer science are addressed in detail and their teaching is placed in the center. Our courses consist of three or four modules, in which practical experience is also gained. The CAS enables graduates to teach computer science in a constructive, subject-integrated and level-appropriate manner in all three cycles of elementary school.
Elke Bülow: Why does this continuing education program not combine computer science with the media, as other German-speaking cantons in Switzerland do?
Dr. Gian-Paolo Curcio: There are three reasons for the separation: First, the school subject media and computer science can be described as an integration subject, which consists of two disciplines, media studies and computer science. At the PHGR, we place media education as a domain of the educational sciences, and computer science as a basic engineering skill in the field of mathematics. Secondly, well-founded teaching with a level-appropriate, didactic structure requires a high degree of subject-specific and subject-didactic competence from the teachers. The respective subject science with the corresponding subject didactics is in an interdependent relationship with each other. In our opinion, the understanding and development of subject-specific content is a necessary, but not sufficient condition. In order to be able to achieve the necessary depth of content, corresponding time resources are needed as well as a focus on content. Third, we have found that many teachers are interested in either media education or computer science and would like to further their education in one of these two areas. Accordingly, we also offer certificate courses that focus more specifically on the area of media education.
As mentioned at the outset, the school subject of media and computer science makes an important contribution to society in the context of the digital transformation. In order for teachers to be able to perform their tasks in the best possible way, the highest attention is paid to the training and continuing education of teachers.
Elke Bülow: What is the significance of the cooperation between ETH Zurich and the PH Graubünden? 
Dr. Gian-Paolo Curcio: The PH Graubünden has now been successfully active for eleven years in the area of programming in the classroom, in MINT promotion projects, and together with ETH Zurich in continuing education. We are successful because practice and theory meet at eye level and are optimally supported by the teaching, research and development at the PH Graubünden.
II
Interview with participants of the first course of studies CAS "Computer Science and Didactics of Computer Science" at PHGR in cooperation with ETH Zurich.
Elke Bülow: You decided to take the certificate course in computer science and computer science didactics. What motivated you and what expectations did you have?
Norbert Oswald: When I started my training as a secondary school teacher more than 24 years ago, computer science was not yet a topic in teacher training. In practice at that time, we mainly taught students user knowledge of office or video editing programs and taught keyboarding. In the course of time, I began to teach computer science with a focus on programming as an elective subject.
But even this does not do justice to the science of computer science and covers only one aspect of this versatile and interesting subject. With the new curriculum 21, computer science has finally been integrated into the timetable with the subject "Media and Computer Science". And as a result, the demands on students and teachers have also risen sharply. In addition to my personal interest and curiosity in the subject, this also prompted me to start this additional training.
Anja Bosshard: Several! Once this year the curriculum 21 is introduced in the canton of Aargau. For me it was a MUST to find a further education in computer science. Since I had studied at the Universities of Zurich, Johns Hopkins, Baltimore, USA, and Cambridge, England, I found it an absolute gift to be able to attend a continuing education course in computer science with the ETH seal of approval "without any prerequisites". I was and am brightly enthusiastic, of course also challenged. My intellectual home is rooted in literary studies, linguistics and philosophy.
Tamara Pirker: I have been teaching mathematics, nature and technology as well as media and computer science at secondary level 1 for 12 years now. I decided in early 2020 to take a continuing education course in computer science that would not simply take one evening, but would offer me more content. My next step was to look at the continuing education courses offered by various teacher training colleges. The reason why I stuck with the CAS Computer Science and Computer Science Didactics of the PH Graubünden / ETH Zurich is that the practical relevance and the module descriptions convinced me. It promised diverse and very practical content, but still not too many topics. I could well imagine that we would get an insight into the different areas of computer science and didactics without the program being overloaded, but we would still get a lot of knowledge worth knowing.
These were or are also my expectations. I would like to expand my background knowledge of computer science and computer science didactics and implement the learned content in my teaching or change my teaching based on the acquired skills.
Elke Bülow: Are you satisfied with the course and what you have learned so far? What did you like the most? What would you like to see?
Norbert Oswald: I am very satisfied with the course so far. Especially the development of solution strategies and the historical aspect are very interesting. I was not aware that computer science is so closely connected to the cultural development of mankind and that it did not come into being with the development of the first computers.
Teaching the principles of computer science without computers, virtually "offline", I find an interesting and also appealing approach. It improves the understanding of exactly how the methods work. Nevertheless, I would like to see more involvement of the computer to try out these principles. In my opinion, the practical work is more motivating for the students if you enable them to solve the same problems with the computer.
Tamara Pirker: I am very satisfied with the course so far. The lecturers take a lot of time for us to answer our questions and incorporate our concerns into their teaching. They care a lot about us and that our requests have a place in their module.
I think that because we are a small group, it is also much more "familiar" and we can benefit from the knowledge as well as the experience of the lecturers and the other course participants.
I would like to continue to have such motivated lecturers who take care of our concerns and questions, as has been the case up to now. In addition, it is important to me that there is a connection to the lessons and that I can incorporate what I have learned into my everyday life.
Elke Bülow: Have you already been able to make experiences with the application of what you have learned? Can you report on this?
Norbert Oswald: Especially in programming, misconceptions of students are interesting. Often the students try to transfer mathematical principles to computer science, which can lead to problems. For example, the sign "=" in the Python programming language is an assignment command and is not the same as the equals sign in mathematics.
The CAS has sensitized me to pay attention to such misconceptions of the students, to make them visible and to develop correct conceptions with them.
Chantal Birchler: I have already had some experience using TigerJython and the "Beaver Cards". Right after the fall vacations, I started programming with TigerJython with four classes. These are two 1st secondary classes, one 1st real class and the 1st talent class, which is a mixed class with secondary and real level. The students have programmed with great joy and have also worked on the programming at home. Many creative figures were created. I was able to differentiate very well. Thus, all students got an appealing to very good result. I used four lessons in class and two lessons were homework assignments. Some of the students are still programming with TigerJython at home and show me their results in class. I have partly used the beaver cards for lesson starters in order to work out different solution strategies.
Tamara Pirker: So far I have not implemented anything 1:1. I take what I have learned into my lesson planning and use it to rethink my lesson design.
Elke Bülow: What would you say to teachers who are thinking about taking the CAS?
Norbert Oswald: I can only recommend it. It is worthwhile to get to grips with this multifaceted and exciting science. All too often in computer science classes, we just stick to the surface, teaching "only" user knowledge and leaving important concepts and principles of computer science unmentioned. However, as computer science takes on an increasingly important role in our everyday lives and becomes more significant, it is imperative that we teachers pick up the ball, continue our education, and thus be able to impart meaningful knowledge and skills to our students.
The CAS provides a deeper understanding of the fundamentals of this rapidly evolving science and provides the tools for varied and competent teaching.
Anja Bosshard: In this first CAS, I think we have found outstandingly sympathetic and inquisitive Phil 2 teachers. (I am an outsider there.) Unfortunately, because of Corona, we did not have as much opportunity to get to know each other better and to build a network.
Chantal Birchler: The CAS brings a lot of background knowledge in the field of computer science and helps to think in a networked way. It is an enrichment for the participants and expands the competencies in teaching the subject of computer science.
Tamara Pirker: I would tell the teacher that the CAS Computer Science and Computer Science Didactics is a good choice if she wants to gain a broader knowledge in this area and seeks exchange with other teachers on computer science topics. The content so far is very well structured and care is always taken to ensure that we students solve tasks ourselves and can thus directly apply what we have heard. We are challenged, but also encouraged very well. For me personally, the time commitment fits the required ECTS. I would choose this CAS again and am already looking forward to the following modules.
III
Interview with Dr. Dennis Komm, head of the CAS program "Computer Science and Computer Science Didactics" at PHGR in cooperation with ETH Zurich.
Elke Bülow: How do you assess the success of the part that has already been carried out? Do the experiences you have had so far meet your expectations?
Dr. Dennis Komm head of the CAS program "Computer Science and Computer Science Didactics" at PHGR: The initial level of knowledge of the participants was very different. Although we expected a heterogeneous group, I must admit that the differences were somewhat greater than I had initially assumed. We sometimes formed different groups within the modules in order to close gaps. I am very impressed by the progress that some participants have made. However, I am at least as impressed by the participants themselves. It is really very rewarding to work with such personalities and the atmosphere in the modules exceeds my expectations many times over.
Elke Bülow: How do you see the future of the program?
Dr. Dennis Komm: We will certainly make some minor changes for a second implementation, but are very satisfied with the half that has already taken place. I am convinced that we will have a similar balance at the end. The program will certainly be offered again in a very similar form – we are already very much looking forward to it!
Editor's note: The interviews were conducted digitally. For editorial reasons, the contributions of the participants in the CAS program "Computer Science and Computer Science Didactics" were shortened. We would like to thank all interview partners for their commitment!