The two Chur teams "i-Girls" and "Fluffy" qualify for the final of the best teams from Germany, Austria and Switzerland at the regional championship of the First Lego League.
The "i-Girls" and "Fluffy", both teams sponsored by a cooperation of ETH Zurich and PH Graubünden, prevailed at the Chur regional elimination of the international robotics competition FIRST LEGO LEAGUE (FLL), which took place last Saturday for the thirteenth time (but for the first time online). The two teams qualified for the final with the best teams from Germany, Austria and Switzerland, which will take place online on May 15, 2020.
The First Lego League – Champion 2020-21 of the Chur Regional Championship are the four girls of the team "i-Girls" of ETH Zurich and PH Graubünden. Second place went to the team "Fluffy" (also from the cooperation of ETHZ and PHGR). The third place on the podium went to the team "ThurTech" from Frauenfeld.
The Chur team "i-Girls" under the experienced leadership of students Selina Stoffel (PHGR) and Fabrizio Reich (ETHZ) achieved not only the overall victory in the overall standings, but also first place in the Robotgame division. A true masterpiece. Team "Fluffy" took first place in the research presentation thanks to their good performance and second place on the podium in the overall standings. The team "ThurTech" from Frauenfeld achieved the brilliant first place in the category "Basic Values" as well as the third place in the overall ranking.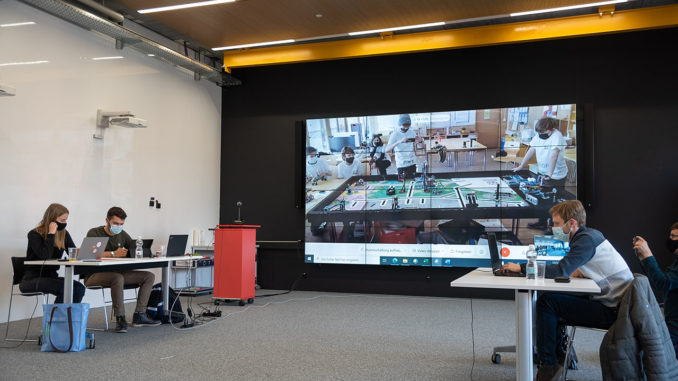 All nine teams left a convincing impression on the jury as well as on the numerous visitors who tuned in online.
The motto of this year's competition was "RePlay". The participants presented a short research presentation on how "playing and moving" can be revolutionized and changed, and they became active game makers for a moment.
In addition, the nine- to sixteen-year-old students built and programmed a fully automatic robot for the so-called "Robotgame" in order to solve as many tasks as possible on a given playing field within 150 seconds. The individual teams presented these works and ideas, as well as their abilities to work as a team, to a three-person jury on the day of the competition.
In this competition, the participating teams carried out several steps of a real product development. Solving problems with perseverance and great commitment as a team in the face of insufficient resources and limited time, and presenting the results convincingly, promotes skills as well as abilities that can be of advantage to the young people later in their working lives.
This year, the organizers EMS Schiers, FH Graubünden and PH Graubünden were again supported by the three main sponsors EMS-CHEMIE AG, Hamilton Bonaduz AG and Trumpf Schweiz AG.
_____
First published in: For FLL 2020-21 by Lilian Ladner, 02/14/2021.